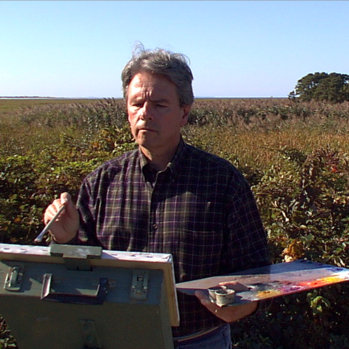 Ken Evans Biography
Creativity has been a constant passion throughout my life. As I have always lived on the coast and sailed a great deal early on, I have a strong emotional response not only to the beauty of our coastal seas and lands, but I have also developed a deeper understanding of how these sustain us and are necessary to our daily lives. As I paint I find these coastal areas particularly magnificent and inspirational.
Born by the shore in Stamford, CT, it was also this proximity to New York which from an early age afforded me the opportunity to study and paint in the City's abundant art world, from abstract to landscape. From this I am primarily self-taught, yet I have had considerable study with Kirill Doron, a former University of Moscow professor of painting. He practiced and taught a form of realism which merged rather nicely with and served as a strong basis for the considerable further study I pursued with John Stobart, who taught the proper Royal Academy techniques of classical realism. I now use later Luminist techniques in a studio set piece, in my own form of Contemporary Realism, which still seems to have more than a tinge of experimentation and color theory learned in my early Greenwich Village and NYC days.
Over the last 25 years, my work has been written of and advertised in all the major art magazines from Fine Art Connoisseur to American Art Review, and my work has sold nationally and internationally. I have had one person shows or been featured in exhibitions most years since 1989 from Newport, RI to Carmel, CA and from Portland, ME to Naples, FL. Recently I have been given one person exhibitions , at the Cape Cod Maritime Museum, Fall 2012, and the Captain Bangs Hallet House, Summer 2010. This same year I had a featured piece in the "Masters of the Sea" American Society of Marine Artists exhibit at the Cape Cod Museum of Art. One of my paintings is the current entryway piece for The Cape Cod Maritime Museum since 2011. I have taught painting at the Mystic, CT Art Center, and at the Orleans, MA Continuing Education Center, and I often teach painting at the Cape Cod Museum of Art.