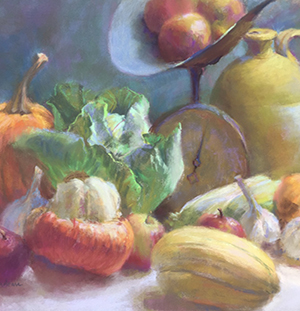 Rosalie Nadeau
Rosalie Nadeau's paintings are influenced by both Realist and Impressionist traditions, balancing powerful color and classical form. An inspiring instructor in both pastel and oil, she generously teaches workshops letting the light be the subject both on location as well as in the studio. Rosalie participates in master workshops as an ongoing study. She has attended Plein Air Painters of America symposiums where she painted with several nationally renowned artists. She has studied the figure in the environment with Kim English, Margaret Dyer, and Sally Strand. Rosalie earned her BFA in painting at the Maryland Institute, College of Art in 1970 where she majored in figure painting.
Nadeau earned prestigious signature memberships in the Pastel Society of America, the Connecticut Pastel Society, Maryland Pastel Society and the Pastel Painters Society of Cape Cod. She has won awards too numerous to list. She is an original exhibiting member of "21 in Truro" and the Pastel Painters Society of Cape Cod.
Rosalie Nadeau's vibrant paintings illustrate internationally distributed art books: Claire Waite Brown's The Pastel Artist's Bible, Lois Griffel's Painting the Impressionist Landscape, Hazel Harrison's Pastel School. Hazel Harrison chose Rosalie's painting, "Thursday's Lilies" for the cover of her Painting Shapes and Edges. She has appeared in numerous regional and local magazine publications and in feature articles in American Artist, Cape Cod Life, and in an extensive feature article in The Pastel Journal.
Her work appears in corporate collections: F. Schumacher in New York, Hale and Dorr, Liberty Mutual International, and Cape Cod Five Cents Savings Bank. The Cahoon Museum and the Cape Cod Museum of Art selected her paintings for their permanent collections.
"I strive to create a tactile PRESENCE letting Light BE the subject. . . to bring the intense brilliance and presence I see to share through my paintings. . . "