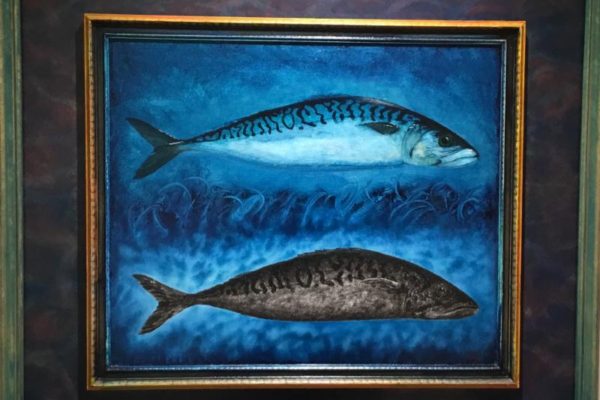 Kevin King, HOLY MACKEREL #3, mackerel ash and oil pigment on panel,
14.75 x 18 inches (26 x 28 framed), $2,200
Fish have played a significant role in North Falmouth artist Kevin King's life. Growing up, he spent much of his free time fishing the lakes and streams in the Berkshire hills near his home in Pittsfield. As an adult, he spent more than a year at sea, in total, working as a research technician on oceanographic expeditions out of Woods Hole. He even wrote a fictionalized memoir ("Bird of Passage") based on the first shark tracking cruise he took with renowned Woods Hole Oceanographic Institution biologist Dr. Frank Carey in 1980.
It was probably inevitable fish would find their way into his artwork. What's more surprising is how literally this has happened. And it all started with this painting, "Holy Mackerel #3." King began by painting the top fish with regular oil paint, then went on to paint the bottom one with fish ash in an oil medium. A fish painted with a cremated fish. King has also used ash from lilies to paint lilies, from a crow to paint a crow and from Ground Zero to paint the American flag.
Oil paints, as he notes, are essentially particles of pigment suspended in a medium of oil. Originally, the pigments were all found in nature, such as titanium oxide for white and earth pigments like umber and sienna for shades of brown. Charcoal, used for black, was one of the earliest, so King's use of ash as a pigment has a long history. "What's the difference between taking something from the ground and using ash?" he says. "Instead of rendering something with charcoal or pencil — instead of burning wood — you're using the actual substance."
King estimates he's since done about 50 paintings of fish using this approach. "And I haven't closed the book on it yet," he says.