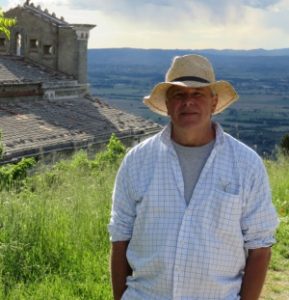 William R. Davis
William R. Davis grew up on Cape Cod during a time when the Cape was a much quieter summer vacation land. At 10 years old, he took sailing lessons at the Hyannis Port Yacht learning to sail Beetlecats and other local built wooden boats. At 14 years old, he started working at the Hyannis Theater and continued there until 1970. Attended Barnstable High School and was always found in the Art Rooms. After High School graduation and a year attending Cape Cod Community College Bill went to work for his father's Heating & Air conditioning Company. But in the late 70's, he returned to painting at night after work. In 1978 he started selling his paintings to local builders and folks in Hyannis Port. By 1982 he made the switch to painting full time. Bill had his first show at Richard Bourne Company 1983 along with an artist friend Elizabeth Mumford. The show was well received and attended by Lee Remick and Jackie Onasiss. This was the beginning of a very long list of shows all over the country.
Once you have seen a painting by William R. Davis, you will understand why Mr. Davis has a national reputation as one of the best marine artists presently working in the United States. Mr. Davis grew up in Hyannis Port, Massachusetts. He is a self-taught artist whose oil paintings typically capture the serene light of sunrise or sunset on the water. He employs many of the techniques traditionally used by American luminosity painters to realize his personal vision, showing a marked preference for 19th-century subjects.
Although best known for his marine subjects, Davis strives to make his work accessible to those with a variety of tastes while expanding his own horizons as an artist. Following the tremendous popularity of Davis' "Lilacs and Basket", featured on the poster for The Cahoon Museum of American Art 1992 exhibition entitled, "The Flowers of New England", the Nantucket Basket series began. Note cards and limited edition prints are now available.
Davis has shifted in the last few years to painting more landscapes on location. In the process, he has converted to plein air painting, partly influenced by his friendship with artists Joseph McGurl and Donald Demers. During 1998 the three friends painted together in various locations all over New England. The result of their efforts was a show entitled The New American Luminists Revisit the Native Landscape held at Tree's Place in Orleans, Massachusetts.
In April 2001,  Davis' work was illustrated on the cover of American Artist Magazine along with an in-depth article about his work.
Cape cod life collector's edition named Davis as one of the Top 400 most influential, famous, and intriguing people on cape cod. Davis was also an invited panelist at the national conference on representational painting, sponsored by American artist magazine and held in the Summer of 2004.