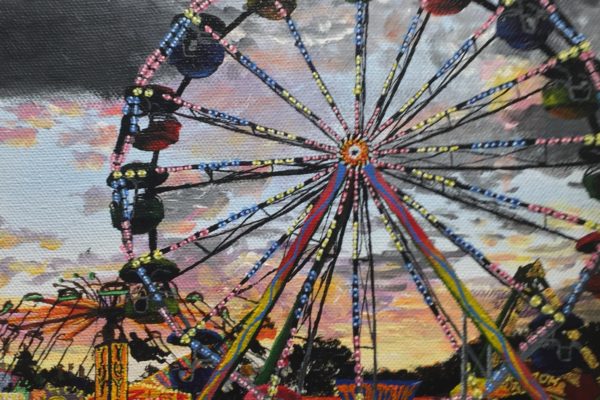 Theodore Ladd, TROUBLE ON THE MIDWAY, acrylic on board, 8 x 8 inches (11.5 x 11.5 framed), $1,200
Theodore Ladd and his wife, Becky, try to go to the Barnstable County Fair every summer. "We ride a couple of rides and eat fried dough and act like kids," he says. And sometime around sunset — when the light show in the sky was as dazzling as that on the midway — he shot the photo that became the inspiration for this painting.
The biggest challenge was painting the jumble of amusements in the scene. "My biggest concern was that I wanted the depth to look real," says Ladd, a 31-year-old Cape native who was profiled as an emerging artist in last summer's issue of Cape Cod Art. His technique was to paint from the background to the foreground, partially concealing more distant objects as nearer ones overlapped. In this case, the sky came first, then the tree line. "There's a little trailer all the way in the back, but you can barely see any of it," Ladd notes.
In viewing "Trouble on the Midway," part of the fun is picking out the razzle-dazzle of signs — or parts of signs — with the names of carnival rides like Yo-Yo, Sizzler and Pharaoh's Fury.  For Ladd, the most time-consuming labor of love was probably lighting up the Ferris wheel on canvas. Each tiny dot of pink, blue or yellow is four different layers of paint, including a wash around each light to give it a glow. "I found I like to paint light and how it affects everything," Ladd says.
In general, he tries to paint everything as realistically as possible, with just one exception. "The skies are a little more whimsical for me. The sky has no rules, more or less, other than trying to emulate what it looks like in the photograph. I like my skies to be very vibrant and almost dramatic." See more of Theodore Ladd's paintings