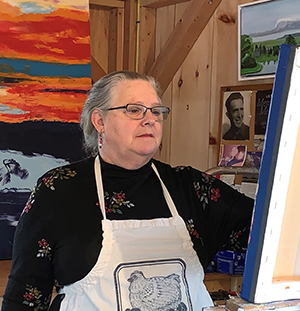 Rebecca Gmucs
Rebecca Gmucs is an American Painter who loves to paint Cape Cod and just about any other landscape. Her abstracted landscapes are highly charged, but never busy. Color is her muse.
She worked and studied printmaking, textile design, then moved to landscape design and ran her own design business for many years. She won awards for planting and container design. She started painting on the side and steadily explored the medium.
The love of plants and nature happily combined with a passion for color to produce rich, impressionistic landscapes of places she goes and places she lives. Rebecca works with both brushes and palette knives to explore the physical qualities of paint.
This painter is in love with seeing the beauty of the world around her and wants to share it with everyone. She is constantly challenging herself to do more, something a little different, outside her comfort zone. Rebecca has gone through: "I can't possibly see how I can paint water" – so she paints water; "I can't possibly see how I can paint trees" – so she paints trees. And then, I must paint clouds.
Ms. Gmucs's work has been collected in the US and the UK. She has shown at the Rockefeller Estate in Westchester, NY, Provincetown Artists Association & Museum in Provincetown, MA.
She has shown in Brooklyn, NY, and in Manhattan and Boston with The National Association of Women Artists. Rebecca is an award-winning member of Manhattan Arts International. She is a member of Eastham Painter's Guild in Eastham, MA, and shows at many Cape Cod venues.