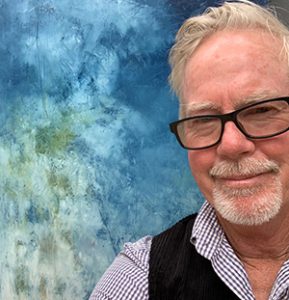 Patrick Dennis
Patrick Dennis is an American painter born in 1955.  He has lived in California, Oregon, Tennessee, Florida, Georgia, and Washington D.C. In his life, he has been a musician, restaurateur, teacher, museum specialist, gallerist, lobbyist, and founder of thirteen art festivals. He is a father, grandfather, and provider for an exceptionally large dog. The common thread throughout these various careers and locales is his love of painting for the last 30 years. He enjoys the seclusion and intuitive process of painting and challenging his own perceptions and skills.  Whether depicting a stark environment or the contrast of urban encroachment, his painter's eye sees the world from the perspective of a landscape composition with endless interpretations.
Living in Cambria on California's Central Coast provides bountiful inspiration, but it is the reflections on our precarious relationship with nature that prompts him to explore ways to render the evolution.
Rather than painting alone at home, he paints in a public studio space and displays his work there. This serves to engage the public in his process.  As a result, he stops and starts frequently and must rely on memory to render those layers on canvas.
It is important for him to create an engaging, yet tranquil painting that conveys an impression of the struggle between nature and our encroaching urbanization.  Hard edges and texture are contrasted with soft hues and ambiguous compositions.  The genesis of each painting involves re-appropriating memories of a real place from fragmented or overlapping timelines to inform the layers of paint.  The excavation process uncovers and exposes elements from the original composition resulting in a finished product that represents a suggestion of the original intent.  Memories, after all, become obscured, losing sharpness over time, thus the impressionistic results.​​
"It's not only about rendering the elements of sky, earth, and water in variation.  It's about capturing the memory fragment salvaged from the experience."
After priming a clean canvas, he often sketches in the composition using black gesso.  This ingredient will inform the surface.  He starts with a "real" place in mind and then edits the details with each layer until the result is an impression. Mixing varnish with paint, he applies an underlayment of torn porous paper.  He often uses sheet music, poetry, newsprint, maps, or tissue forming a mosaic collage pattern knowing this layer will almost certainly be obscured or covered by subsequent layers of paint.
The paper under the paint creates a stable textured substrata. Once the foundation has cured, he chips, peels, and sands off any loose materials.  Up to six additional layers of paint will be applied to create an atmospheric or abstract landscape composition using brushes, scrapers, palette knives, and feathering tools.  Layers may be excavated to expose the underlying surface, adding relevance and depth to the finished piece.
Patrick's work is held in private collections in the United States, including Georgia, Florida, New York, California, Arizona, Massachusetts, Oregon, Washington, Montana, and New Jersey.  International collections include Paris, London, Dubai, Perth, and Vancouver.
Patrick has exhibited in numerous exhibitions and art fairs including:
Santa Eufemia Gallery
Group Exhibition, "Zones of Immaterial Sensitivity"
October 2021, Venice Italy
Stefania Carrozzini Gallery
Solo exhibition, "Thresholds"
February 2020, Milan, Italy
Alessandro Berni Gallery
Group exhibition, "Abstract Now!"
November 2019, Perugia, Italy
MyMicroGallery
Group exhibition, "The Colour of Thought"
October 2019, Milan, Italy
Onishi Project
Group exhibition, "The Colour of Thought"
May 2019, New York, NY
Patrick Gallery
Curator for solo exhibition, "Rediscovering Marshall Lewis"
April 2019, Cambria, CA
Camden Image Gallery
Group exhibition, "Silent Witness"
February 2019, London, England
Amsterdam Whitney Gallery
Group exhibition, "Moulin Rouge"
December 2018, New York, NY
Defoor Center
Solo exhibition, "Natural Beauty"
March 2014, Atlanta, GA
Defoor Center
Group exhibition, "Elements"
February 2015, Atlanta, GA
Westside Foundry
Dedicated solo gallery
2013-2014, Atlanta, GA
Decatur Gallery
Owner, curator
2011 – 2016, Atlanta, GA
Catherine Miles Gallery
Solo exhibition
2012, Atlanta, GA
JURIED ART FAIRS:
Mill Valley Fall Arts Festival, CA. 2019, 2018, 2017, 2016
Beverly Hills ArtSHOW, CA. 2019, 2018, 2017
Palo Alto Festival of the Arts, CA.  2019, 2018, 2016
La Quinta Arts Festival, CA. 2017
Calabasas Fine Arts Festival, CA. 2016
Westwood Village Fine Art Festival, CA. 2016
Old Town Art Show, St. Augustine, FL. 2011
Deland Fall Festival of the Arts, FL. 2010
Sarasota Fall Fine Art Festival, FL. 2010
St. Armands Circle Art Festival, Sarasota, FL. 2010
Las Olas Art Fair, Ft. Lauderdale, FL. 2009
Hyde Park Village Art Fair, Tampa, FL. 2009